The first OENOBIO Summer School took place at Hochschule Geisenheim University, Germany from 15th to 27th July 2019.
The theme was : "ORGANIC VITICULTURE AND ENOLOGY "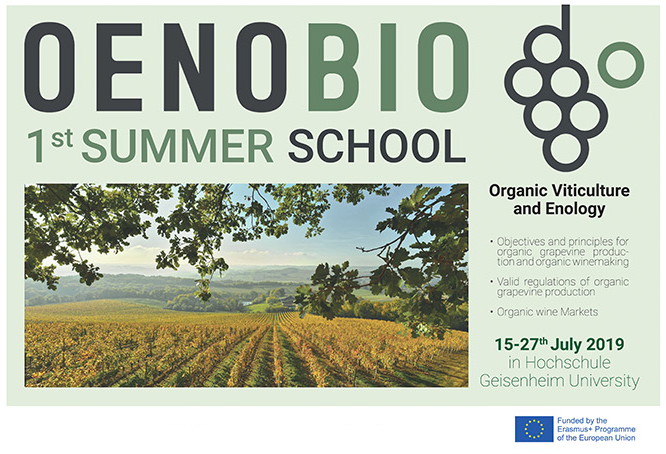 The OENOBIO Summer School is a dense program of study (10 continuous full days), which brings together students and professors/teachers staff from 5 European higher education institutions. Students and teachers will work together in multinational groups on the specific topics of organic viticulture and enology.
This Summer School is open to members from each institution from the OENOBIO Consortium. There are 6 spots available for each university, and 3 spots for VBNA and ECOVIN.
Interested particpants have to make arrangements and register their interest with their institution of origin. The selection of students will be made by each institution.
Participants to the Summer School will be eligible to receive an Erasmus Grant to cover their travel and accommodation expenses. These grants will be distributed by their Institution of origin/application.
During 12 days, 36 students have had the opportunity to exchange among each other and with contributors on the organic vine and wine topic. They have learned practices to produce wine in a more efficient way and also to have less impact on the environment through meetings with 22 speakers into classes, workshops, visits and tastings. The climate change and wishes of consumers lead to produce more organic products : It has to be an example for an ethical wine business. This first Summer School was a success, students were grateful to be a part of it.
SEE THE VIDEO OF THE FIRST DAYS
For more information, please contact:
Yvette Wohlfahrt :

This email address is being protected from spambots. You need JavaScript enabled to view it.

Randolf Kauer:

This email address is being protected from spambots. You need JavaScript enabled to view it.

Agathe Lairy:

This email address is being protected from spambots. You need JavaScript enabled to view it.
Summer school 2019